As a SWISS Hosts member you will experience unique motorhome & camping experiences
SWISS Hosts Gold Membership

Immediately access the members area & start driving

3 planned camping tours through Switzerland (e-book format)

SWISS Hosts Camping Cooking Recipes as E-Book

Packing list for your camping trip
CHF 67 incl. E-books for 365 days of camping enjoyment
SWISS Hosts Silver Membership

Immediately access the members area & start driving
CHF 67
incl. E-books for 365 days of camping enjoyment
6 reasons why SWISS Hosts is the right network for you
Particularly individually find camper pitches:
With us, no two pitches are the same. None of our hosts is an official campsite, this allows for individual experiences.
Get to know regional specialties:
Each of our hosts also offers homemade regional products and specialties that our hosts would love to convince you of.
Support regional businesses:
For the provision of the free pitch, we ask you to support your host with a purchase of the offered products.
Alternative to crowded campsites:
Most SWISS hosts offer 1 – 3 pitches, so peace and quiet is guaranteed. There is no mass tourism here.
Save costs:
Campsites are much more expensive than the annual membership of CHF 47. In addition, CHF 2.- per membership will be donated to the association Herzensbilder. Which is a personal concern for us.
Authentic experiences:
The hosts will be happy to show you their business and tell you about their work. This gives you authentic insights into the life of Swiss farms.
What our SWISS Hosts members say

Super first contact via WhatsApp, nice reception, pitch with magnificent view, delicious sausage and cheese. We will be happy to come back.
Stefan & Katrin

A wonderful place to relax or even explore the area. The beer is the hammer, no matter which just try all times.
Iris

Easy booking via WhatsApp. Super friendly welcome from the family. Beautiful view from our parking lot. Yummy cheese 🙂 If more campers of the same size as ours (7.35 meters) come, I think it might be difficult with more than 2 vehicles. But surely 3 Marco Polos / California would fit. Very quiet, ideal for hiking. With kind regards
Chris & Lene

Today we are at another #swisshosts farm. A totally likeable family with 16 mother cows and a cute flower and vegetable shop. And again we felt really comfortable and learned things about the people and the agriculture that you would never know otherwise.
drhossi

Uncomplicated helpful hosts and an exemplary organic farm. We have never seen such a progressive chicken farm. The pitches are in the middle of the site, with a view of the nearby mountains. WC and shower were newly created. Thank you and happy to do it again.
Pia

Very quiet spacious place with a particularly beautiful view! Well signposted. We received a warm and hospitable welcome. Wine tasting is highly recommended. Beautiful starting point for alpine hiking tours! Thank you very much, we enjoyed it!
Christoph

Very nice and quiet pitch in the middle of an apple orchard. The hosts are very friendly and accommodating. Don't miss the fine wine: the cosy tasting, accompanied by tangy cheese from our own production, was a great experience! Thank you very much for your hospitality – we will be happy to come back!
Christof
Your advantages as a SWISS Hosts member
Access the member portal immediately - also available as an app
You can also log in to the member portal on the go, search for hosts, save your favorites, and leave reviews about hosts you've already visited for other members.
Search on the map for locations or hosts
If you want to get an overview, it is best to use the map search. Members who already have more specific ideas about the location or type of host can also search by these criteria.
Get exclusive information in the portal - for members only!
On the home page of the member portal you can not only edit or use your profile data, favorites and searches. In addition, you will find information on exclusive SWISS Hosts discount promotions and host events.
You can rate hosts in the portal and leave feedback
The reviews of others help you to get an even more personal impression of the hosts and their offers, in addition to the exact profile information of the hosts. You too can share your experiences with other members.
Insight into the member area
Find the right host using the search in the members area
As a member, you can either use the map (as shown in the picture on the right) or the search directory to find the appropriate hosts. You can choose by location, hostname or host category.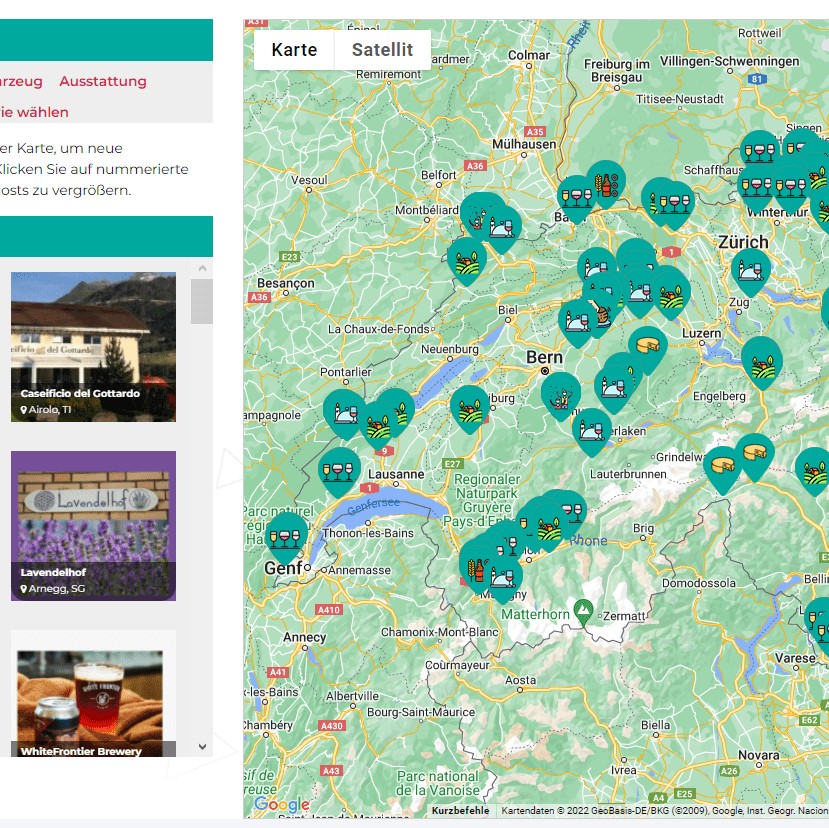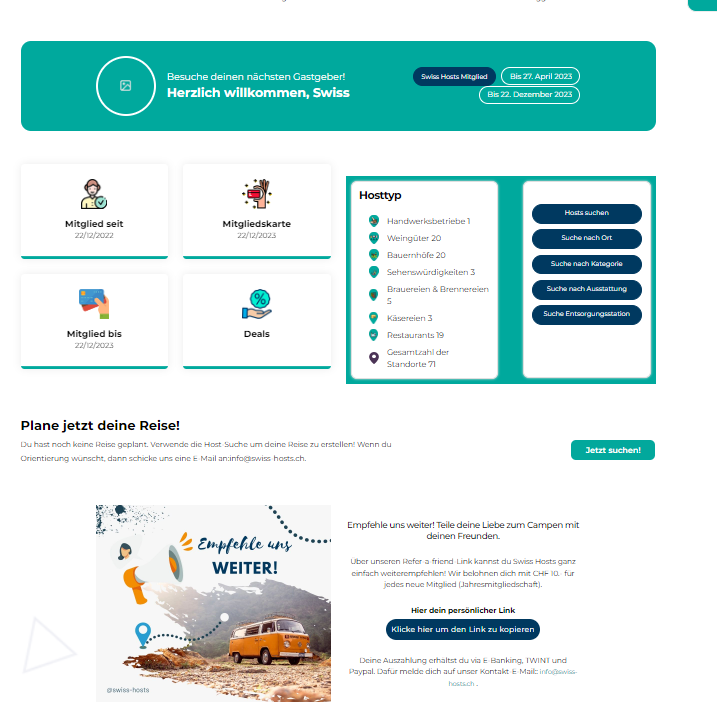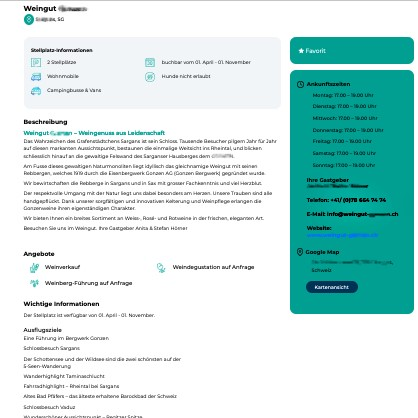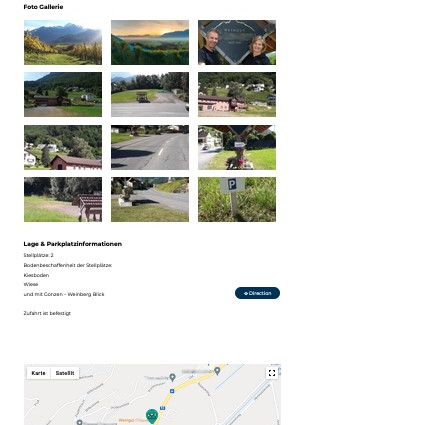 Insights into a host profile
Host information
In the host profile you will find all the important information about the pitch, arrival times and contact details. For the personal impression, the hosts also leave a description in which they introduce themselves.
Offers
Under Offers, the hosts describe which services (e.g. guided tours, tastings, breakfast, sale of their own products) they offer as standard.
Gallery
The gallery gives you a concrete insight into the hosts' surroundings and lets you already dream about your own stay.
Reviews
Read about other members' experiences in the respective host profile or leave your personal impression as a review for the other members after your visit.
Get your SWISS Hosts membership
Instant access to our host network at farms, wineries, breweries, cheesemakers and restaurants.
Find over 200 pitches at 70 hosts such as farms & other businesses free pitches & thank them for their hospitality with farm-to-table shopping. The stay is limited to one night (24h). Please also follow the rules in our
code of conduct.

SWISS Hosts Gold Membership

3 planned camping tours through Switzerland in e-book format*

SWISS Hosts Camping Cookbook with quick & delicious recipes as e-book*

Packing list for your camping trip for summer & winter*
Membership Gold
for

CHF 67
valid 365 days from purchase
*E-books only in German available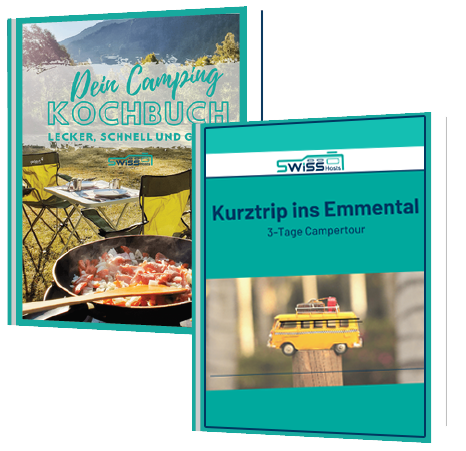 "Fantastic pitch with a brilliant view, super nice hosts and a large, very tasty range of various organic foods. We will definitely come back again. "
-Silas
SWISS Hosts Tour #1:
A wonderful round trip through Central Switzerland
This itinerary from SWISS Hosts invites camping enthusiasts to discover and experience the landscape, people and special features of the region on a 5-day trip between Zurich and Bern. We start the motorhome adventure in Zurich. The advantage of this tour, however, is that you can also choose Bern or one of the four intermediate stops as your starting point. Let us inspire you for your very own SWISS Hosts journey.


Travel time per day: 1 - 2 hrs.

Host: winery, restaurant, farm, brewery

Route: round trip with 4 stops

Travel area: Central Switzerland